How was your first week of the New Year?  Did you make any goals or resolutions for 2012?   It's been a busy week here, Maggie's back in school and our oven/stove died this week.  Hectic!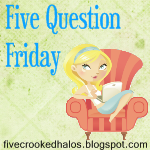 Just a reminder, I'm linking up with others for Five Question Friday and I don't make up the questions. Click on the button above to see a linky list of others also participating. Be sure and share your answers below too!
What is the weather at where you are and do you like it?   I live in sunny Florida, so this question/answer may make some people angry.  It was 48 degrees here last night and today's high is going to be 70 with a high of 73 on Saturday.  This past week, it has been pretty chilly – down in the upper 30s at night.  This Florida girl likes warm weather, not cold!
When you are sick, what do you seek comfort from?    When I'm sick, all I want to do is lay in the bed.  So, I guess my answer would be my bed.  If I'm really super sick, I"ll even break out my old Winnie the Pooh to snuggle with for naps.   🙂
What do you need to do before the end of the month?   I don't even know what I need to do before the end of tomorrow… much less the end of the month.  I'm doing my best to stay on task this month – time management is one of my goals, so I'm trying not to leave everything for the last minute.
Have you ever served on a jury?  I've never served on a jury.  Funny…. I was actually supposed to have jury duty this past Monday, but I was excused.  In the state of Florida, if you are a stay at home parent of a child under the age of six, you have the option of being excused from jury duty.  (This may be the law elsewhere too, I'm not sure!)
If you could be any animal, what would you be and why?   Um…. I have no idea.  Maybe a giraffe?   They always seem very laidback, just enjoying their surroundings.  And they are Maggie's favorite animal at the zoo.  🙂