The Gaylord Opryland Resort was my home for four days last week for the Blissdom'12 blogging conference.  I've stayed there many times as a child, but never as an adult.  And after this past week's experience there, I have an even greater love for this resort.
Here's a rundown of what I love about it…
Hospitality
Each employee that I passed in the hallway or in the property, was quick to say hello. I made it a game with myself to see if I could beat greeting them.  Every person there was extremely helpful and friendly – I love great customer service.
Location, Location, Location!
I am a huge country music fan and I loved that I could walk to the Grand Ole Opry.  There's also a quick shuttle, but the weather was too nice!  The airport is only about 15 minutes away and Downtown Nashville is a quick 20 minute cab ride.  (warning: $25/one way..yikes!)
Attention to details
With over 1,000 women at the Blissdom blogging conference, this sign found in the convention area really says it all…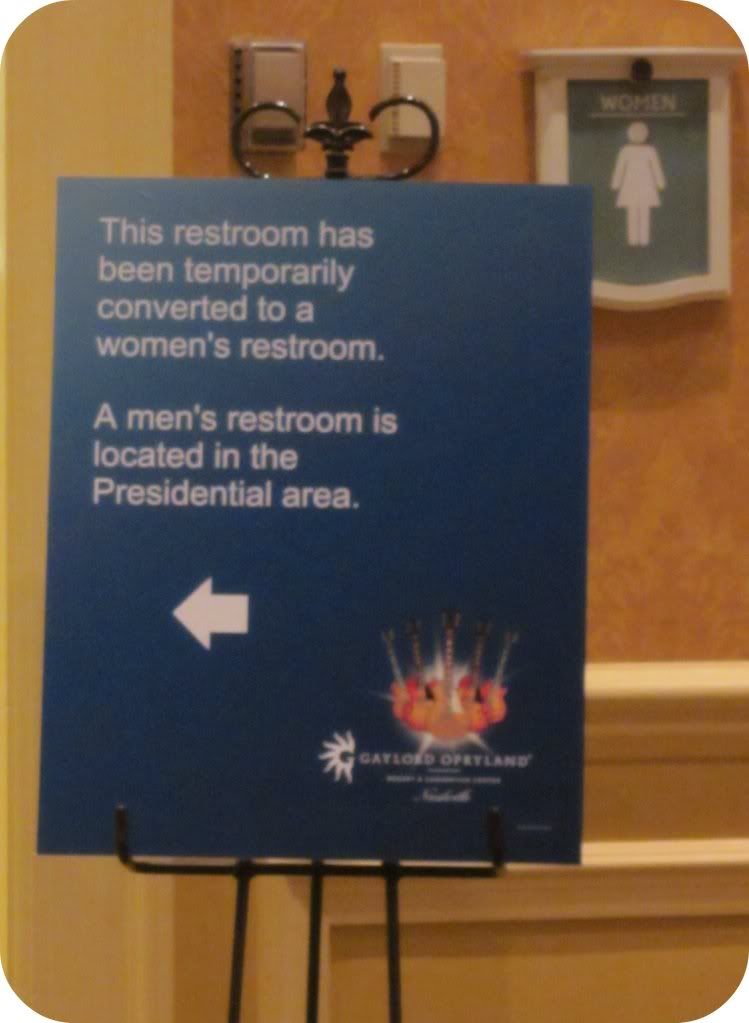 Food
Whether you're in the mood for Mexican food, steaks, seafood, Italian, sushi or even Irish pub food – the Gaylord Opryland Resort has something for everyone.  I heard rave reviews about Stax burgers, located in the Delta atrium along with Wasabi's sushi bar in the Cascades. Be prepared for resort-like prices.
Great place to exercise
With close to 3,000 guest rooms and over 600,000 square feet of convention space – bring comfortable shoes!  I walked what felt like two marathons while I was there.  Here's a hint to keep you from getting lost – the carpets are color-coded to  tell you what area of the resort you are in!   Red = Delta, Conservatory = green, Magnolia = yellow.
Flowers
The beautiful gardens throughout the resort were filled with colorful flowers and greenery.  I fell in love with these daisies in the Conservatory atrium.
The power to overcome
In May 2010, the Gaylord Opryland Resort and the Nashville area was devastated by a massive flood.  With four to six feet of water throughout the property, the resort was closed for six months and underwent a complete transformation. The property now boasts a fresh look and new furniture in the guestrooms, new carpets and more.  They overcame the devastation and rebuilt the resort from the ground up in record time.
Every inch of this resort is top notch.  From the customer service to the attention to details.  The resort is a vacation all in its self with everything you could need all under one roof. I'm already looking forward to planning my trip for next year's trip Blissdom!
Visit www.gaylordhotels.com/gaylord-opryland/ to learn more about the resort.  Follow them on Twitter at @GaylordOpryland and the Gaylord Opryland Resort on Facebook.
Have you been to the Gaylord Opryland Resort?  Tell me about your experiences….
**My trip to Blissdom, was sponsored in part by Sea Best Seafood.  Thoughts and opinions here are 100% my own. **