I'm probably the least crafty person in the world.  I have no artistic ability – my sister got all of the artsy genes in our family.  I found this DIY project on Pinterest a few months ago and ended up making it for my husband as a Christmas gift.  And with Valentine's Day coming up, I think it's a great way to show someone you care.  Plus, it's simple, affordable and SO stinkin' cute!
With a regular picture frame, just insert the cute printable (found at the Lasso the Moon website) and then take a dry eraser marker to write on the glass!  When you're ready to change the message – just wipe it off and start over!   I have this frame on my husband's dresser and I love changing the message every day!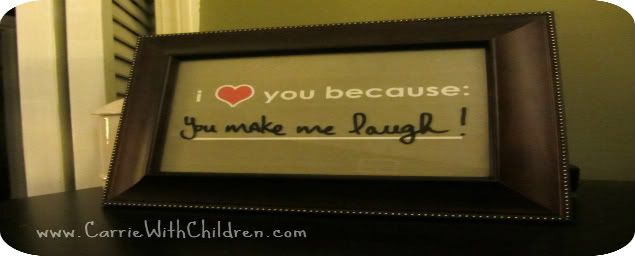 Don't forget to check out this post at the Lasso the Moon website to download the printable file to make your own picture frame!   Being able to update the words every day, makes it such a unique and loving gift!
Do you have a loved one that would love this gift?  Who are going to make one for this Valentine's Day?