It's a long, holiday weekend…  and we have no major plans!  YAY!   We'll probably grill out and play outside, but besides that, not too much going on here!   What are your plans for the weekend?
Let's get to the questions..be sure and share your answers below!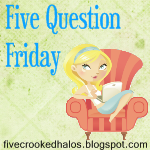 Just a reminder, I'm linking up with others for Five Question Friday and I don't make up the questions. Click on the button above to see a linky list of others also participating.
Are you a napper?   Back in my day, pre-kids, I loved napping!  I could break records for the longest nap, any place, any time!  Now, that the girls have come along, I've lost my ability to take naps.  Maybe I'll put that on my "to do" list for the long weekend – take a nap!
What was your favorite subject in school?   Most hated?   My most hated was anything science and math related.  I was terrible at both and just not interested in them.  My favorite was probably English.  I love writing (and obviously, I still do!)
Did you have something old, new,  borrowed and blue at your wedding?  What were they?  My old and borrowed item was my mother's pearls. She wore them when she got married and my sister wore them too.  My new item were the sneakers I wore at my wedding.  My wedding colors were black, white and turquoise – so there was a lot of blue going on!  I had a turquoise sash on my wedding dress!
What one thing are you determined to do this summer?   Potty train Maggie!   We've been on a terrible cycle of trying to potty train her and she's just not interested.  I'm determined to get her interested and trained this summer.  It's not going to be fun, but I've gotta do it!
Ice cream or popsicles?   Ice cream!  Always ice cream!  It's my one true weakness.  I love, love, LOVE ice cream!