Today is Friday the 13th!  Are you superstitious?   What are your plans for the weekend?  Hubby and I are going on an overnight trip tomorrow with no children!  I'll give you the full report next week.. I promise!
Let's get to the questions..be sure and share your answers below!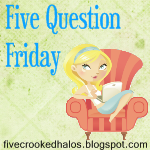 Just a reminder, I'm linking up with others for Five Question Friday and I don't make up the questions. Click on the button above to see a linky list of others also participating.
What's your view on men wearing sandals?   Does sandals mean flip flops?!   Every man should wear flip flops.  I'm not even sure I can even recall the last time I saw a man wearing sandals.   Weird.
What song do you love but are embarrassed to admit?  No shame in my game…. I love a good Vanilla Ice "Ice Ice Baby" sing-a-long and any old school rap songs.
What summer camp should they make for moms?   If I could dream up a summer camp just for moms – it would involve letting someone else take care of the chores, sleeping in every day and happy hour every afternoon.  Besides that… not much else.  No rules!
What is the most romantic song?  Anything by Garth Brooks.  He's my boyfriend, ya know.  I like to pretend he's singing to me.
Do you have an embarassing pregnancy story?  The only thing I can think of is that when I was pregnant with Maggie, I gained over 80 pounds…  and I'm only 5'2.  I ate anything and everything I could get my hands on!  That was embarassing!