Yay for Friday! I'm going to a good friend's bridal shower tomorrow and then a HUGE welcome home party for a friend that just returned home from Afghanistan. It's going to be a busy weekend! What are your plans for the weekend?
Let's get to the questions..be sure and share your answers below!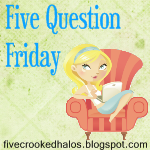 Just a reminder, I'm linking up with others for Five Question Friday and I don't make up the questions. Click on the button above to see a linky list of others also participating.
Did you have any homecoming traditions?  In college, the Thursday night before homecoming, there would always be a huge dance.  It was probably my favorite thing about homecoming.  Sadly, at my small school – I never even went to the football games.
Do you ask your spouse before spending money?  Depends on what I'm buying. 
   No really, I don't tell him unless it's something kinda pricey.  I'm a cheap girl when it comes to spending money, so he knows I'm not going to go to the extremes.
If you could be famous for something, what would it be?  Well, being that I was a dancer for almost my entire childhood, I'd like to think that if I could be famous that's what it would be.  Of course, now that I'm older – I probably wouldn't be very good! 
Have you ever seriously thought you were going crazy?  Yes, in fact….   just this past Wednesday.  I had one of those days where everything was piling up on my plate.  I was certain that I was going crazy.
How do you eat your steak/burger?  (medium, well-done, etc.)  I like everything cooked medium.  Definitely not red…just pink.