Happy Friday everyone! I've finally packed up the Christmas tree and I'm crawling out of the holiday madness.  I'm ready to tackle 2013!  What are your plans for the weekend?
Let's get to the questions..be sure and share your answers below!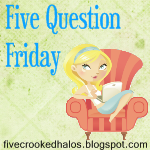 Just a reminder, I'm linking up with others for Five Question Friday and I don't make up the questions. Click on the button above to see a linky list of others also participating.
Have you set any goals/resolutions for 2013?   My husband and I have decided instead of making one large goal for the year, we were going to try for smaller goals each month.  Mine for January?   100 crunches and drink eight glasses of water a day.  Fingers crossed!
Have you made any travel/vacation plans for 2013?   Yes!  Santa was kind enough to renew our Annual Passes to Walt Disney World, so there will be quite a few Disney trips in our future.  We've got some other smaller trips planned, but nothing huge. Maybe once summer gets closer we'll figure something out!
What room is never clean in your house?  Maggie's room!  Wow.. she's definitely a four-year old.  I thought I got rid of/donated a ton of toys before Christmas, but it seems like they just keep multiplying!
What food must be in your house at all times?  Mountain Dew and sweet tea.  I love my Mountain Dew first thing in the morning, it's my version of coffee… and my husband lives for sweet tea.
Are you a hugger or more of a hands-off person?  Depends on who it is!  Kidding.. kind of.  I always love a good hug!