Are you a Black Friday shopper? Did you stand in line half the night for the "perfect" gift or shop the deals online? I stayed up last night and got some online bargains. I love being able to shop without ever leaving the couch!
Just a reminder, I'm linking up with others for Five Question Friday and I don't make up the questions. Click on the button below to see a linky list of others also participating. Be sure and share your below too!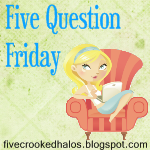 What is your favorite part of a Thanksgiving meal?
I know I sound like a broken record, but it's my great Aunt's Southern cornbread dressing recipe. This year, a close second was the sweet potato casserole. I tried a new recipe and it turned out delicious!
Are you a host or a guest for Thanksgiving this year?
We hosted this year! My mother-in-law, brother-in-law, sister-in-law and my nephew joined us at the table for Thanksgiving. We had a great meal, with tons of delicious food and good laughs.
When you think of one Thanksgiving tradition, what comes to mind?
Does eating too much count as a Thanksgiving tradition? It does to me!
You have two pieces of pie in front of you and you HAVE to eat one…do you choose pumpkin or pecan?
Definitely the pecan pie. I'm not a fan of pumpkin flavored stuff and yes, I've tried it – I'm just not a fan of it. Pecan pie is the best when it's hot and served with vanilla ice cream.
Are you a Black Friday Shopper?
I love good deals but I also love sleeping. I usually miss the crowds and just go out after lunchtime on Black Friday. I've found that most of the crazy people that are out and about at 5am are usually fast asleep by lunchtime… and the stores aren't near as hectic. I'm also a huge fan of online shopping – but only if I get free shipping!