I'm pretty sure that this has been the longest week in the history of the universe. I guess it also didn't help my cause that my husband has been out of town for work since Sunday. I think everyone in our house is looking forward to Daddy coming home this afternoon….even Jack the cat.
Just a reminder, I'm linking up with others for Five Question Friday and I don't make up the questions. Click on the button below to see a linky list of others also participating.
Be sure and share your below too!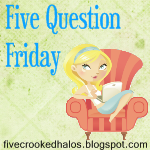 Do you open presents on Christmas Eve or Christmas Day? We normally open all of our gifts on Christmas Day with all of our family here. I'm hoping that if Santa brings me a Flip cam, that he will deliver it on Christmas Eve so that I can use it on Christmas Day. (Hi cute husband..I hope you are reading this part.)
What is your favorite Christmas cookie (or candy)?
My all time
favorite holiday candy is a delicious treat made by my great aunt Gwen. As a kid, she would always make extras just for me. They are little pretzel sticks…but not just any pretzel stick. These are rolled in caramel, then rolled in crushed peanuts and then finally rolled in white chocolate. SO delicious. I tried to make them a few years ago and I just didn't have the magic touch like she does.
What's the worst Christmas gift you've ever received? I'm not even sure… but I do have a good story about someone else! When I was a 9 to 5'er, we had a random gift exchange at work. I'll never forget when it was time to open gifts and the one man in the group ended up getting a pair of the most feminine earrings I've ever seen in my life. Hilarious. What are the odds that the one man in the group – gets the earrings! 🙂
Christmas song that you love? Totally random…but I really love "Christmas in Dixie" by Alabama. I don't even really know why, besides the fact that I'm a Southern girl. There is something about that song that makes me cry *each* time I hear it. I'm a sucker.
H
ow many trees do you put up? In my pre-children days, we used to have two trees. A typical big tree and then another small, fake tree that sat on a table. One tree is enough for us these days. Besides, little people hands would terrorize the table tree if they could get their hands on it!

So…..I've shared my answers…tell me yours!