I'm pretty sure that this has been the longest week in the history of the universe. I guess it also didn't help my cause that my husband has been out of town for work since Sunday. I think everyone in our house is looking forward to Daddy coming home this afternoon….even Jack the cat.
Just a reminder, I'm linking up with others for Five Question Friday and I don't make up the questions. Click on the button below to see a linky list of others also participating.
Be sure and share your below too!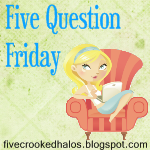 How long does your Christmas tree stay up? I cheated and took our Christmas tree and decorations down yesterday. I'm pretty sure that's bad luck for the new year, but I was tired of the clutter.
Do you have plans for New Year's Eve? We usually stay home on New Year's Eve and celebrate with another couple who my husband has known almost his entire life. We will definitely be eating good to ring in 2011 – we are having a seafood boil, complete with crab legs, shrimp and lots of Old Bay seasoning. Delicious!
Do you have any New Year's resolutions? I wrote a post about this earlier in the week. Friendly peer pressure is encouraged to make sure I stick to my resolutions! 🙂
How did you spend New Year's Eve when you were younger? Is it strange that I can't even really remember any memorable New Year's Eve from when I was a kid?! Not even one! That leads me to believe that we didn't really celebrate it too much in my family.
What was the best way you've ever spent New Year's Eve? Last New Year's Eve was definitely a memorable one! My friends got married last year on the night of New Year's Eve and had a fun party to ring in the new year. It was a really great time, even if I was three months pregnant with Molly at the time! This New Year's Eve there won't be water involved! 😉
Last New Year's Eve – Three months pregnant, drinking water.

Here's hoping you have a fantastic 2011. Thank you for following along with my adventures! I've got a lot of fun things planned for the upcoming year – stay tuned!