Wow!  I "unplugged" from the online world yesterday and it was a great break… however today I'm frantically playing catchup on everything!  I'm happy it's Friday though…Five Question Friday is always fun!   What do you have planned for the weekend?!
Just a reminder, I'm linking up with others for
Five Question Friday
and I don't make up the questions. Click on the button below to see a linky list of others also participating.
Be sure and share your answers below too!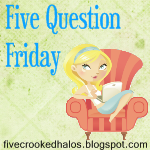 Would you rather be on ABC's Extreme Home MakeOver or TLC's What not to Wear? I've been begging people to nominate me for What Not to Wear for years.  I'm an excellent candidate…just ask my former co-workers!  I'd be happy for Clinton and Stacey to trash my closet and let me start from scratch.  It's no secret that I have no sense of fashion. At. All.
Do you have any tattoos? Nope!  I considered getting one in college while on Spring Break (who didn't?!) I wanted to get daisies tattoo'ed around my ankle but chickened out. The thought of it being permanent along with the needle was enough for me to reconsider.    Do you have a tattoo?
Do you tell your kids about things you did growing up? I do…but sadly, my girls don't have any idea what I'm talking about yet! One day I'll fill them in on all the crazy things that mommy used to do growing up!
If the traffic signal turns yellow, do you stop or speed up? It all depends on how close/far the car behind me is from my bumper!
What's your preference: chocolate or chips? Is both an acceptable answer?  If I have to choose…it's gonna be chocolate!  I'm a chocolate/peanut butter fanatic!