Yay for Friday!  Did this week fly by for you?  It went by really fast for me…and I'm not even sure why, it was a pretty quiet week around here!  I'm excited for tomorrow – it's supposed to be 75 degrees tomorrow (Yay Florida weather!).  We are taking the girls to the farmer's market and I'm hoping we can get some great fruits and veggies!  What are your plans for the weekend?
Just a reminder, I'm linking up with others for Five Question Friday and I don't make up the questions. Click on the button below to see a linky list of others also participating. Be sure and share your answers below too!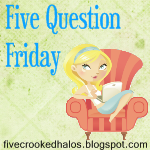 Have you worn the same outfit more than one day in a row?
I think anyone that has flown on an airplane and lost their luggage has probably worn the same outfit more than one day in a row!  When I traveled overseas in 2006, I was traveling for almost a total of 24 hours.  I was so glad to see my luggage…I just wanted new clothes!
If you had to choose any LARGE city to live in, which would it be?
Is Nashville considered a large city?  If so, that's my no-brainer answer.  I sound like a broken record, but I love everything about Nashville.  Such a cool city (except for their NFL team!)  Besides…if I lived in Nashville..maybe
Busy Mom
and I could be BFFs.  She rocks.
Fly or drive with the kids on vacation?
For now…the only vacations we go on involve driving.  Nothing against parents that do it, but I cannot imagine traveling on a plane with an infant and a toddler.  I'm just not that brave.  Besides, most of the places we would want/need to go are within driving distance of our home.  I wouldn't even begin to know how to pack for a plane trip with two little ones involved!
What is your idea of "spring cleaning"?
Hiring someone else to do it!  Haha!  Does anyone actually like to clean?!
What is the best book you have ever read?
To Kill A Mockingbird.  It's probably one of the best written books of all time.  I could read it over and over and love it just as much.  (In fact, I have many times.)