I almost skipped this week's questions, (you'll see why when you read question number five) and then I remembered my mom telling me how much she learned about me each Friday.   So, here we go.  Enjoy and leave a comment below with your answers too!
Just a reminder, I'm linking up with others for Five Question Friday and I don't make up the questions. Click on the button below to see a linky list of others also participating. Be sure and share your answers below too!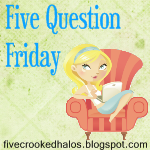 Can you drive a stick shift? I "have" but I shouldn't.  Does that make sense?!  A few people tried to teach me not long after I turned 16 and there ended up being a lot of tears involved, so I quit.  Long story short…in college I ended up having to drive someone's car about 20 miles and it was terrible.  We survived, but I swore after that day that I would never attempt to drive a stick shift again.
What are two foods you just can't eat? Oh I could name a lot more than just two here.  Pretty much anything green.  Not a fan of green beans, peas, collard greens, lima beans..however, I will eat lettuce.  I'm also not a fan of oysters..and yes I've tried them.  Something about the texture, I just can't do it.
Do you buy Girl Scout Cookies? What is your favorite kind?
I love the chocolate/peanut butter Tagalongs and Trefoils.  I could eat an entire box of Trefoils in one sitting..no problem. My husband says they stopped making Trefoils…  Is this true? Or did he just tell me this so I wouldn't buy twelve boxes?!
How do you pamper yourself?
I'm not even sure how to answer this one.  Seriously.  That's pretty bad, isn't it?!  I promise to do better.
What is your nickname and how did you get it?
Ever since I was in high school, my sister has called me Beavis.  As in… Beavis & Butt-head.  Now I know what you are thinking….so do I call her Butt-head?  Nope!  I'm not even sure why/how I got this lovely nickname, but it stuck!  My sister is actually how I met my now-husband.  She called me Beavis so much that he didn't even know what my real name was for a few weeks.