Okay..I ask the same thing every week and no one hardly answers me.  So, let's try this again..   What are your plans for the weekend?!
We are going to the arts market tomorrow (yay!).  Besides that, I've got a honey-do list for my husband (he just learned of it if he's reading this post. Hi Honey!) and we'll be starting the process of getting ready for our trip to the Disney Social Media Moms conference next week!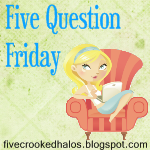 Just a reminder, I'm linking up with others for
Five Question Friday
and I don't make up the questions. Click on the button below to see a linky list of others also participating. Be sure and share your answers below too!
Do you know what your REAL hair color is? Yep…it's dark brown.  I haven't really strayed much from my true color..I have blonde highlights, but nothing too drastic.
Do you plan ahead for summer, or fly by the seat of your pants?
I have to have a plan and schedule for everything!  Yes…everything!  There is no such thing as 'fly by the seat of your pants' in my world.
What is your favorite meal to cook?
I guess "anything in the crock pot" would be a lazy answer?  LOL.  Actually, I really love to make
this pork chop recipe
.  It's a little time consuming, so I don't make it that much anymore..but I should!  Would you believe the real name of the dish is "Awesome Baked Pork Chops".  Ah, the life of Food.com   It's not exactly the most healthy dish in the world, but I love it…and so does my husband!  I usually serve it with mashed potatoes, they are great for sopping up the extra sauce!   Let me know if you try the recipe – it's pretty tasty!
Do you get offended by not receiving thank yous?
Call me old fashioned, but yes I do.  I'm not really that picky about the type of thank you note, it can be via email…just as long as you acknowledge your thanks.  That's all I'm after…is that too hard?!
How did you meet your best friend? I met my BFF Kitty (not her real name) in college.  She thought I was a mean girl…and I thought she was a mean girl.  LOL.  One day we realized that neither was true and were inseparable throughout college.