I've been so confused on the days of the week lately for some reason.  Yesterday, I thought it was Friday all day.  Confusing!  You'd think that 5QF would be my reminder of the days of the week!  Yay for the weekend!  Only two more weeks until we'll be at Disney World! YAY!
Just a reminder, I'm linking up with others for Five Question Friday and I don't make up the questions. Click on the button below to see a linky list of others also participating. Be sure and share your answers below too!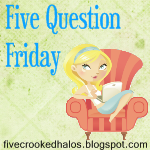 Have you ever forgotten your child in a store or at school? Um…NO!  Oh my heavens..I can't even imagine it.  How is it even possible that someone could forget a child somewhere?!  I forget things from time to time, but a child?!  Nope..not happening.  Besides..my girls are loud, no way they'd let me forget them.
Where did you go on your very first date? (Like…first first, not first with your spouse or current significant other!) I honestly have no idea.  So…instead, I'll break the rules and tell you about my first date with my now-husband!  I got off work at 5:00pm and he called me at 5:05pm to see if I wanted to go to a minor league baseball game…in two hours.  It was "Baseball Bingo" night in between innings and everyone got bingo cards..I still have our ticket stubs and our Bingo cards from our first date.  (Awwwww…)   🙂
What's your "silly" fear? Having to touch lizards, cockroaches, frogs any type of insect or reptile.  Really.  To me, it's a real fear..my husband always tells me it's a silly fear.
Confrontation: do you cause it, deal with is as it comes, or run far far away?
Drama and confrontation are not for me.
Wood floors or carpet? That is the ongoing battle in our house these days.  We have carpet in the bedrooms, which I think is a must.  We have ugly carpet in the den/living room area that the previous owners had and we really want to put in hardwood floors…but WOW they are pricey!  Hopefully in the next year, we'll be able to get hard wood floors throughout the house except for the bedrooms! (Sponsor anyone?!)