I'm so glad it's Friday!  This has been such a busy week for us – we've had something going on each day this week, I'm ready to relax for awhile….and catch up on the laundry!
What are you up to this weekend?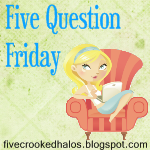 Just a reminder, I'm linking up with others for
Five Question Friday
and I don't make up the questions. Click on the button below to see a linky list of others also participating. Be sure and share your answers below too!
What is your favorite sign of spring? Is it terrible that springtime makes me think about football?!  Springtime to a football fan means spring practices, the football schedule is released and it's almost time for the NFL Draft.  Who cares that the season doesn't actually start until September…it's never too early to start talking and thinking about football!
What was your best birthday ever? This is a tough one…   I met my boyfriend Garth Brooks (yes, my husband knows..and yes, he thinks I'm crazy) the day before my 14th birthday.   I've also seen him in concert on my birthday…and he's released two different albums on my birthday.
What is your favorite dessert? Any dessert that involves apples and ice cream.  Apple pie, apple crisp…if it's got ice cream to go with it – I want to try it!
What is the best excuse you've ever used to get out of a ticket? I'm totally jinxing myself here…but I've never gotten a ticket.  Ever.
Do you wake up before your alarm, with your alarm or after hitting snooze several times? The snooze button is my best friend.  I'm a terrible morning person.  I don't "do" mornings.   I'm not sure it's physically possible for anyone to wake up with their alarm or heavens forbid, before the alarm.  Long live the snooze button!  Who's with me?