Happy Earth Day to you!  We've got a busy weekend ahead of us!  A birthday party for Maggie's boyfriend at the minor league baseball game tomorrow night and family festivities for Easter on Sunday!  Sometime in between all that fun, I've got a long to-do list that needs attention and "someone" has a "honey-do" list to tackle!
What are you up to this weekend?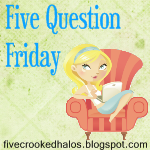 Just a reminder, I'm linking up with others for
Five Question Friday
and I don't make up the questions. Click on the button above to see a linky list of others also participating. Be sure and share your answers below too!
What is your favorite Easter tradition?
We spend Easter close to home.  Our girls are so young, we really haven't started our own traditions for Easter.  This year, we are going to my brother-in-law's house and dying Easter eggs, having a big family dinner and then a huge Easter egg hunt with all the cousins.  It should be a fun day (fingers crossed for no toddler meltdowns)!
Are you a "shower" or a "long, hot bath"  kinda person? I have a toddler and a nine-month old…..There is no such luxury of a long, hot bath.  Showers are the "norm" around here…but I do enjoy a nice bubble bath from time to time.
Can you parallel park?  And if so, when is the last time you did it?
I *can* parallel park…but I don't *like* to do it.  I'm terrible at it.  I will constantly circle the block, if it saves me from having to parallel park.  Sometimes when I go Downtown to visit my old co-workers, I have to parallel into a spot.  I know people on the street are probably laughing at me because I'm so bad – oh well!  🙂
What is your favorite Easter candy? It's a toss up between Reese's peanut butter/chocolate Easter eggs….and marshallow Peeps!  I have a major weakness for anything chocolate/peanut butter and Peeps are just too good to pass up!  I especially like the bunny Peeps.  There is a proper way to eat them, ya know?  Ears first when it comes to Bunny Peeps.
Easter: Do you go all out with the Easter Bunny or focus on the religious part of the holiday?
I know I'll catch some heck for this ..but neither. (Sorry mom!) Like I mentioned earlier, we haven't started our own family traditions yet for Easter.  Maybe this is the beginning of something new for us this year!