Okay…let's be honest… how many of you got up before the sun to watch "the" wedding?!   Not me!   I'll catch the highlights later today.  I'm not a morning person and truthfully..just wasn't that interested in it.
What are you up to this weekend?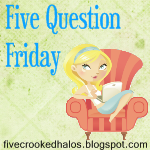 Just a reminder, I'm linking up with others for
Five Question Friday
and I don't make up the questions. Click on the button above to see a linky list of others also participating. Be sure and share your answers below too!
If you could buy any car, money not an option, what would it be?
I guess I'm just a practical girl…but I've always thought a black Chevy Tahoe would be the ultimate car to drive.  (If you are reading this…Hi Chevy! Call me…)
What was your worst first date ever?
When I was in college a guy in my photography class asked me to go out to dinner with him.  He took me to McDonald's….and ended up having to pay for my own meal.  OMG!   Needless to say, that was our first and last date.
How old were you when you fell in love for the first time?
Seriously?!   Good lord…  no idea.  I think this all depends on what your definition of "love" is.   I mean when I was four years old, I was "in love" with my "boyfriend" and we were going to run away together.  Does that count?!
When was the last time you reconciled your checkbook?
(Mom…you should probably stop reading now.)   I don't even know where my checkbook is…and I certainly can't tell you the last time that I "reconciled" it.  Do people even use checkbooks anymore?!   Seriously?
If you were going to fashion a "wanted" ad for a best friend, how would you word it? Must like sports (because I do…a lot) and have no sense in fashion (because I don't…at all).