Busy, busy day around here!  We are having a big garage sale tomorrow – so you can only imagine the fun times at our house!  Who knew that one family could produce so much junk and clutter!
What are you up to this weekend?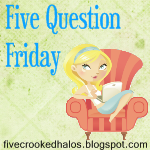 Just a reminder, I'm linking up with others for
Five Question Friday
and I don't make up the questions. Click on the button below to see a linky list of others also participating. Be sure and share your answers below too!
If you could change one thing about yourself what would it be? Probably my ability to take on too many projects at once….and I'm not talking blog related stuff, just life in general.  I need to learn how to say "no" more often.
Write about a time when you got lost. My college roommate and I decided to take a "shortcut" once instead of jumping on the interstate connecting Asheville, NC and Knoxville, TN.  Instead of a two hour trip, ours turned into a four hour trip, we ended up right back where we started near Asheville.. and never even made it to Tennessee!
Camping or five-star hotel? While I do love a good campfire and roasting marshmallows, I have a fear of bugs…so I'm going to go with five star hotel.
Have you donated blood? I haven't donated blood in years..  I need to get better at doing it more regularly!  My Dad is a regular donor and I understand the importance of it.  (Too late for a New Year's resolution?!)

Do you have a budget or do you 'fly by' most months? I have a dollar amount that I have to stay below each month.  As long as I keep tabs on that number, I'm a happy girl.