Welcome to this week's edition of the
Tuesday Travelers
series! This week 
Julie from 3 Moms in 1
shares with us her choices for top five family places to visit in Atlanta! I've been wanting to visit the Georgia Aquarium ever since it opened a few years ago!  I think my girls would love it …and me too!    (psst…wanna be a featured traveler?
Here's the scoop!
)
---
You may not immediately think of Atlanta as a great family vacation destination, but look closer! My city has so much to offer. Great restaurants, nightlife, and fantastic outdoor activities and museums for families. All the perks of a big city with the friendly hospitality of a southern town.
I admit, I am a suburbanite at heart. I don't venture into the city very often, opting instead for the comforts of home and the convenience of shopping in the 'burbs. But since having a small child to entertain, we've found ourselves in the city so much more often. We like to make our family weekends special, especially this time of year. Springtime in the ATL is gorgeous! We have mild, sunny days before the heat of summer kicks in(There is a reason we call it HOTlanta).
Here are my Top 5 Family Activities in Atlanta
The Georgia Aquarium – Whale sharks, beluga whales, tropical fish in all colors of the rainbow, adorable sea otters, penguins, and more. The highlight of the GA Aquarium? No question, it's the massive viewing area the whale sharks, hammerheads, and giant groupers call home. I could sit for hours in front of that wall of fish; it has such a calming effect. Also not to miss? The brand new AT&T Dolphin Tales show! Opened to the public on April 2nd, this show includes drama, music, and high-flying dolphin stars. We were invited to a sneak preview of the show on April 1st. It was a lot of fun! Some elements are a little bit scary for small children, but my 3-year grasped my hand and did just fine. (Thinking of visiting the GA Aquarium? Here's a tip… go early! The aquarium can get very crowded in the afternoon, and there are several small windows for viewing throughout the facility. In large crowds, these areas can become more frustrating than fascinating. So get there early!)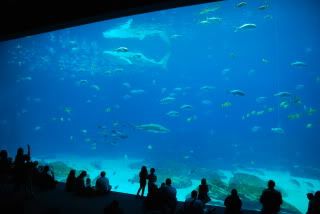 The Atlanta Botanical Garden – Definitely one of our favorite family outings. A trip to the Atlanta Botanical Garden offers a different experience each season. In the spring, the grounds are covered with tulips and blooming dogwoods. The orchid house and "jungle room" (as Amelia calls it), always feel like an adventure, no matter how many times you've been. The children's garden is an exciting area for the little ones to explore, climb, and slide.
Zoo Atlanta – Lions and tigers and bears, oh my! Every kid loves the zoo. Parents too! You can fall in love with Atlanta's pandas and silverback gorilla families. Watch the lemurs climb, ooh and ahh over the adorable red pandas, and giggle at the naked mole rats as they scurry through their underground maze. There is even a petting zoo where children can pet and brush a group of gentle sheep and goats. (The only downside to Zoo Atlanta? Location. It is not as central to the city as other attractions we have to offer, but it is worth the drive.)
Local Parks and Playgrounds – even farms! Yes, Atlanta is a big city, but we have those small-town touches to highlight nature. In nice weather, we are at a park or playground nearly every weekend. There are so many, we can go to a different playground every weekend for months! (Birthday party tip! Most playground/park shelters can be reserved for parties – at no cost! If you have a kid with a spring birthday like I do, you will love the playground party.) If you are willing to drive just a little bit, the area also boasts several family-friendly farms where you can interact with cute and cuddly creatures (try Tanglewood Farm, just outside of Roswell, GA).
The Fernbank Museum of Natural History – A museum? With kids? Yes! Fernbank is a lot of fun for all ages. Permanent exhibits include dinosaur replicas, cultural artifacts, and interactive areas to explore weather phenomenon. I recently learned of the new permanent exhibit, Nature Quest. We cannot wait to see it! Nature Quest is a special museum experience "where children are engaged through over 100 interactive encounters on a journey to explore an immersive, nature-inspired environment. Everywhere you look, there is something to "do." Games, interactives and live animals are just the beginning!" I have a feeling we'll be there soon.

Hopefully you will be here soon too!