Good morning from sunny
Miami Beach
and
SheCon'11
.   I'll be spending the day learning and networking!  Sounds like a fun way to spend a Friday to me!  Although, I really miss my babies and my cute husband too.
What are you up to this weekend?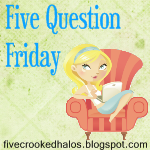 Just a reminder, I'm linking up with others for
Five Question Friday
and I don't make up the questions. Click on the button above to see a linky list of others also participating. Be sure and share your answers below too!
Do you and your spouse go to bed at the same time every night?
Most nights we do not go to bed at the same time.  I'm a night owl and I usually do most of my writing at night once every one is asleep.
A question for the ladies…. What kind of facial hair do you like on your man?
It's no secret to my husband that if he ever shaves his goatee and beard, I may divorce him.  I love it!  So handsome!
What's the worst vacation you've ever taken? Is there such thing as a bad vacation?!  I'm not sure I've ever been on a bad vacation.  Let me think on it and I'll get back to you!
What's the first-ever blog you followed?
I don't know if these qualify, but I'm a longtime fan of
PostSecret
and
Cute Overload
.   Post Secret is updated once a week with postcards of written secrets and confessions that are sent in anonymously via snail mail to someone's house.  The owner of the site scans them and puts the person's postcard online for all to see.  It's an interesting way to use social media.  Cute Overload is just a great site to make ou smile.  Who doesn't love cute animals?!
Do you enjoy amusement parks? Um…hello..  I love Disney World!   I like amusement parks, but I do not ride roller coasters or very many rides.  However, I do love amusement park food…  cotton candy, funnel cakes, candied apples, ice cream..  mmmm!