I think I've spent all week playing catchup from vacation….and now it's time for the weekend!  I probably going to jinx myself by saying this outloud (or should I say typing it out loud?!), but we have no plans this weekend!
What are you up to this weekend?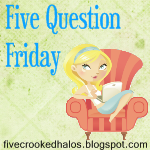 Just a reminder, I'm linking up with others for
Five Question Friday
and I don't make up the questions. Click on the button above to see a linky list of others also participating. Be sure and share your answers below too!
How close to your childhood dreams is your life now?
As a kid, I dreamed of moving to Nashville and marrying a country music singer.  So…nope.  My childhood dreams and my life now couldn't be any further apart.  And I'm so totally okay with it.  If I was a country singer's wife, I'd have to dress up and be fancy all the time.  I like my pajamas better.
What is one "must have" item for this summer? Is a little quiet time an acceptable answer?
Do you have your kids stay up on school stuff during summer vacation? (Or, if you don't have kiddos, did your parents make you keep up on school stuff during summer?) Nope!  Summertime was summertime.  Besides the usual summer reading lists, I don't recall my parents making us keep up with schoolwork during the summer.  Ever.
Do you can or freeze fresh produce? Um, no.  Can't say I've ever done that…didn't even really think it was possible.  We buy and eat fresh produce from time to time, but usually cook it right away.
Do you get ready for the day first thing in the morning? Definately not.  I'm not a morning girl. At all.  I'll stay in my jammies as long as I can get away with it during the day.  Morningtime is the worst for me…I'm not happy waking up early.