As of yesterday, I'm officially mom to a 2 1/2 year old and a one year old!  Yep, yesterday was Molly's birthday!  We had a fun day and ended the night with cupcakes!  We are having family over on Sunday for a cookout, so it's going to be a fun, four-day celebration!
What are you up to this weekend? Anything exciting?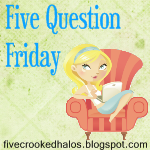 Just a reminder, I'm linking up with others for
Five Question Friday
and I don't make up the questions. Click on the button above to see a linky list of others also participating. Be sure and share your answers below too!
What is your current favorite tv show?
I love food and I'm not the world's greatest cook but I love Top Chef!  I love the Quick Fire challenges and watching the chefs work under pressure.  It's amazing to watch the dishes they create each week!  Chef Kenny from a few seasons ago lives here in Jacksonville and just opened
his own restaurant
at the beach.  I went a few weeks ago and it was so good!  Hoping to meet him the next time we are there!
What's the worst haircut you ever got? When I was in college,  I had a friend convince me that I needed red highlights and a shorter cut.  It ended up being a boy's haircut and the highlights were almost purple.  It was terrible.  So terrible that I'm not even willing to share a picture with you.    It was the first and last time I'll ever go with red highlights…and listening to that friend's suggestions.  lol
What was something you did as a child that you thought you were so cool for doing? I'm sure my sister will appreciate this answer, but when I was a little kid, I met "the" real Gilligan.  Extremely nerdy, but I thought I was so cool.
Do you have any GREAT frugal family fun tips? I guess it depends on what your definition of "great" is…but I'm a big fan of bringing our own snacks/drinks when we go places.  I also love packing picnic lunches too!  We always take picnic lunches when we go to the zoo, the arts market and other places on the weekend.  It's an easy way to save money and there's no worrying about where/what to have for lunch!  It's already packed!
Would you drive across country if you had the money to fly? I think the real question is more "If you had the time…."  I love flying, but I'd love to drive across country and if I had the time and money to do it – I would!