Welcome to this week's edition of the
Tuesday Travelers
series! This week, Jessica from
Suitcases and Sippy Cups
tells us all about
South Padre Island, Texas!
Jessica has inspired me to want to visit South Padre Island just to sign up for the sand castle lessons!  Keep reading and learn all about it – sounds fun! (psst…wanna be a featured traveler? Here's the scoop!)
---
When you think of island vacations, the Lone Star State is probably not on the list. But, nestled at the southern tip of Texas is South Padre Island where you can soak in the sun, surf, and family fun.
Nature and animal lovers will fall in love over and over again with fun for all ages. Join a Dolphin Watching Eco Tour for a breathtaking, up- close encounter with these amazing creatures. Dolphins frolic and play in the waves along the boat just inches from excited and smiling spectators. For even more sea creature fun, a variety of sea creatures such as crabs, seahorses, and fish are available to hold and explore in the boat's touch tank.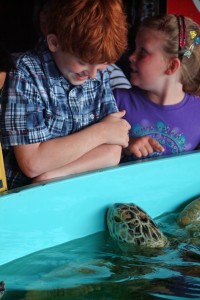 Several species of sea turtles call South Padre their home, including the endangered Kemp's ridley sea turtles. Visitors can get an up close look at these creatures at Sea Turtle Inc., an educational and rehabilitation facility. At Sea Turtle Inc. kids can stand nose to beak with giant sea turtles as they learn about conservation and protection of all species of turtles. For a truly one of a kind experience, visitors are invited to watch the much anticipated release of Kemp's ridley hatchlings. Just as the sun is rising hundreds of baby turtles, no bigger than an Oreo cookie, are released on the beach and scramble across the sand. Truly memorable!
History buffs will be thrilled to visit the museum complex of Port Isabel, where they can explore three historic museums. The Port Isabel Lighthouse was built in 1852, and is the only lighthouse along the Texas coast that is open to the public. The lighthouse is famous in history as a stronghold for both Union and Confederate forces, as well as the site of the last battle of the Civil War.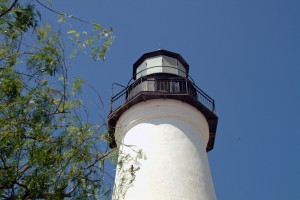 If it's treasure you seek, look no further than the Treasures of the Gulf Museum. The exhibits spotlight three 1554 Spanish shipwrecks with fascinating artifacts and a entertaining hands-on area for kids. Just next door the Port Isabel Historic Museum offers the largest collection of artifacts from the U.S.-Mexican War.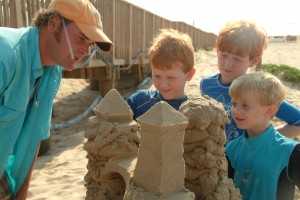 Of course, no island vacation is complete without a trip to the beach, and South Padre Island does not disappoint. Sugar white sand and crystal clear waters welcome visitors to clean and crowd free beaches. For a great family memory that will delight both young and old, book your private Sandcastle Lessons. Everything you need is provided in a secluded area where you will learn all the tricks to making great sandcastle sculptures along with delightful instructors whose only goal is your enjoyment.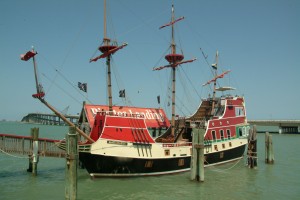 For non-stop family fun, climb aboard the Black Dragon Cruises with a band of renegade pirates. From the moment you board the ship, the crew will capture your attention with pirate stories, sword fighting, water pistol battles, face painting, on- board treasure hunt, and a musical parade. The fun doesn't end until you are safely back on land with a pocket full of booty and great memories of an epic voyage.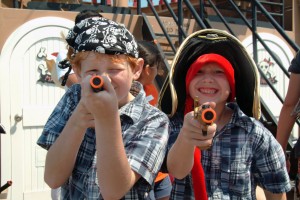 All this family fun is just a drop in the sandbucket for what South Padre Island has to offer. To learn more check out the South Padre Island tourist website.