Happy Friday to you!  For many, it's also the beginning of a four day weekend!  I'm excited it's Friday because as of this afternoon, my husband will be on vacation for the week!  No big plans for the time off though – we've got a long "to do" list around the house.
What are you up to this weekend? Anything exciting?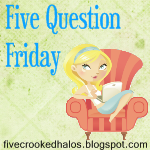 Just a reminder, I'm linking up with others for
Five Question Friday
and I don't make up the questions. Click on the button above to see a linky list of others also participating. Be sure and share your answers below too!
If you had the chance to bungee jump, would you?!
There isn't enough money in the universe that could make me bungee jump.  Just *watching* someone bungee jump practically makes me sick.
Would you rather go to the movie theater of the drive-in? Since I've never actually been to a drive-in before….I think I'd rather go there!  I love tailgating for football games and that's kinda how I picture a drive-in movie theater!  Is tailgating allowed before the movie starts?
Do you have your groceries delivered? Do people really have this as an option in some cities?!  Wow!   Even if I had this as an option, I don't think I'd do it.  Call me crazy, but I actually like grocery shopping.  Plus, as much as I try to plan meals – I always end up needing something else!
Eyebrows:  Do you wax, thread, pluck or stay au naturale? I get my eyebrows waxed…and it hurts.  (ps. Why does this question seem TMI to me?!)
Would the people you went to high school with be surprised by your life today? Ah, probably…but I'm not losing sleep over it.