Happy Friday to you! Busy time around here today!  We are leaving tonight on a family road trip to Virginia tomorrow morning!  We are going to a family wedding and turning the trip into a family vacation at the beach.  I'm excited to meet more of my husband's relatives!
What are you up to this weekend? Anything exciting?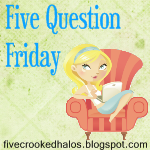 Just a reminder, I'm linking up with others for
Five Question Friday
and I don't make up the questions. Click on the button above to see a linky list of others also participating. Be sure and share your answers below too!
If you knew your best friend's spouse was cheating on her or him, would you tell them? Of course I would – that's what friends do.
Soda in a can or bottle? Tough choice, but I'm going with can…..and I don't even have a valid reason.  As long (Weird question.)
What do you wash first, hair or body?!
Body first.  (ps. This is semi-TMI to me. Anyone else think so?)
What advice to any new mama? Invest in a good rocking chair.  You'll use it a lot.
What is your best hangover remedy? I always need caffeine…  a lot of it.  And a greasy breakfast works too!