Happy Friday!  I've been looking forward to this day all week!  One of my longtime friends that I've known since I was six years old is coming to visit this afternoon.  I'm excited to spend time with her.  Rumor has it that tonight is date night….I'm keeping my fingers crossed.
What are you up to this weekend? Anything exciting?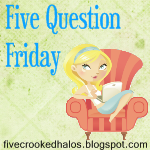 Just a reminder, I'm linking up with others for
Five Question Friday
and I don't make up the questions. Click on the button above to see a linky list of others also participating. Be sure and share your answers below too!
Vow renewal ceremonies –  yay or nay?! If it's a vow renewal at Disney World, then I say yay.  Otherwise,  eh…I could take it or leave it.  After my visit to the Disney Weddings chapel during the Disney Social Media Moms conference, I really want to have a renewal ceremony there.  It was an amazing place, just like something out of a fairy tale.
What sound annoys you the most?   Oh there are a lot of things! Grinding teeth, people that smack their gum, nails on a chalkboard are just a few.
If you had to pick, would you only have all boys or only all girls for kids? Well this is an easy one – all girls.  My entire family is girls… I wouldn't even know what to do if I had a boy.  Really.  Girls rule, boys drool.
Do you believe in alternative medicine? I honestly don't know.  I'm not just saying that to take the easy way out either, I really don't know if I do or not.
Would you take a family members children and raise them if needed? Of course I would – that's what family does.