Hi everyone! It's my favorite day of the week again – Travel Tuesday! This week,  Julie from 3 Moms in One makes a return visit to the Tuesday Travelers series to tell us all about her recent trip to Arizona!  Keep reading and learn all about it – sounds fun! (psst…wanna be a featured traveler? Here's the scoop!)
---
I'm happy to be here again for Tuesday Traveler!
Travel is very important to me, my husband, and now my daughter. When she was born, we refused to let parenthood stifle our travel dreams. We embarked on an extended-family European cruise and Rome, Italy tour when she was only 14 months old. We got a lot of grief from many people who thought this was a bad idea. But we had the time of our lives and our 14-month old Amelia was extremely well behaved. We've been on many family vacations since – not quite as glamorous (or expensive!), but fun and memorable nonetheless.
Last month, our family of three ventured into the desert.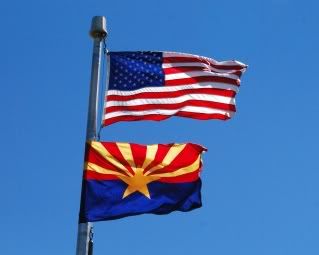 We flew into Phoenix and via our rental car, also investigated Sedona, Tucson, and Tombstone. Here are my top three tips for family travel in the wild west:
Seek out hotels or resorts with fantastic pools. If you passed 5th grade social studies, you know the desert is dry and H-O-T. Your body will thank you if you spend the sunny afternoons in a cool blue pool. And bonus – kids love pools. Nothing made Amelia happier after a few hours in cactus territory like a dip in the pool.
Our choices: The Arizona Grand hotel and Hilton Tapatio Cliffs Resort in Phoenix and the Ritz-Carlton Dove Mountain hotel near Tucson (one of the most affordable Ritz hotels we've come across, and a kids eat free plan!). All offer at least one waterslide for extra splashing fun.
Immerse yourself in nature. If you are not from a desert area, this landscape will take your breath away. Visit parks, drive up a mountain, and stroll or hike in the mornings. (Never go alone and take WATER with you!) Even at a young three years old, we could see the wonder in Amelia's eyes as we wandered the sandy territory. She pointed out the "beach trees" (palm trees) and declared Arizona a "very cactusy" place. She learned that older saguaro cacti have many arms while younger ones do not. She learned that birds bore holes in the giant spiky plants and cool off inside. It was truly an enjoyable experience.
Our favorites: Saguaro National Park near Tucson and the red rocks of Sedona (also in Sedona, Slide Rock State Park – a natural waterslide! But get there early, it gets so crowded that cars wait in line down the road to get in).
Be willing to drive. Places are spread out in the west. A rental car is critical to your full enjoyment of the area. We spent some time in Phoenix, but also drove from Phoenix to Sedona one day, then moved on to the Tucson area with a side trip to Tombstone (famous location of the Wyatt Earp and Tombstone movies). We always pack a lot into our vacations, but we want to go home knowing we did not miss a thing.
Mommy's delight: Definitely visit Scottsdale, only a 20-minute drive (outside of rush hour) from Phoenix. Scottsdale offers beautiful upscale shops, fantastic restaurants, and green golf courses. We visited the Kierland Commons shopping center with high-end stores (perfect for window shopping), extremely delicious restaurants, and even a small splash pad grassy area for kids. The sidewalks are lined with misting fans to keep shoppers cool in the heat. Even if you don't spend money on yourself, you can feel pampered simply strolling these trendy streets.
This Georgia peach family had a wonderful desert vacation. Follow these tips, and you can too!


– – – –
BalancingMama (Julie) is a work-at-home-mom, advertising/media professional, and blogger at http://www.3momsin1.com/. She blogs about parenting, emotional health, memoir, social media, and travel. Follow her on Twitter and become a fan on Facebook.