After taking a few week's break from Five Question Friday – let's jump right back in with the fun questions!
To those of you in the path of Hurricane Irene – please be safe!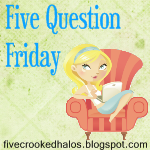 Just a reminder, I'm linking up with others for
Five Question Friday
and I don't make up the questions. Click on the button above to see a linky list of others also participating. Be sure and share your answers below too!
Did you make any fun purchases this week? I guess it depends on what your definition of "fun" might be.  Here's what I consider fun…  last Saturday night, my friend and I went to Bistro Aix, our favorite restaurant for wine and dessert.  I had a homemade Nutter Butter cookie and a glass of wine.  Ha!  How's that for fun…and delicious?!
If you could go to any musical concert – what would it be? This is a total no-brainer….Garth Brooks!  Remember back in December when I went to Nashville to see him in concert?!  So awesome!   Now, I'm hoping to get to Las Vegas to see his show at the Wynn.
What is your least favorite/most favorite house chore? Is this a trick question?  There is no such thing as "favorite house chore".  I could write a novel on all the chores I consider my "least favorite".
Would you prefer new appliances or new clothes? Those that know me in real life, know that I am the farthest thing from a fashionista.  I would much rather have new appliances.  The ones we have right now don't match and are nearing the end of their lives.  (If you're an appliance company reading this….let's talk!  Hey, it never hurts to throw it out there, right?!)
Miracle Whip or Mayo? Neither for me, I don't like mayonnaise. However, my husband is a "mayo only" guy so that's the only kind we have in our house!