I'm doing something a little different this week for Five Question Friday, since I'm out of town at BlogHer'11 in San Diego this weekend.  I'm making up the questions ….and my husband is answering them! This should be fun….I'm very interested to hear how he answers these questions!
What are you up to this weekend? Anything exciting?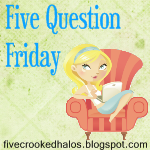 Click on the button above to see a linky list of others also participating in this week's Five Question Friday. Be sure and share your answers below too…and tell my husband what you think of his answers!
What is your favorite collegiate sports team?  Why? Alabama Crimson Tide Football, because when you are born in Alabama, you have to declare your allegiance to Alabama or Auburn at birth.  Do you remember where you were when you heard Bear Bryant died, amazingly I do (home sick from school at Grandma's).
What is your favorite professional sports team? Why? Jacksonville Jaguars, they are the only major sports franchise located in a city where I have lived.  I have been a season ticket holder for over 10 years now!  Football Junkie!  After all my Grandparents bought 'me' a color TV when I was 1 year old so I didn't have to watch football in black and white!
What was favorite childhood lunchbox? Dukes of Hazzard  of course, the metal one, not no plastic piece of junk!

What restaurant outside of your home town do you have to go to when visiting that town? Olive Grove in Baltimore out by the airport, best crab cakes i've ever had, wont even order crab cakes anymore outside of the Baltimore area!
Which one of your kids tv shows do you secretly like (or can at least tolerate)?  Which one makes you see red? Phineas and Ferb, pretty clever, but its a toss up between Dora and Kai-lan for the worst, probably Kai-lan because she tickles the sun, makes me so angry, pretty rational huh?!?
Thanks for letting me play!  Have a great Friday!