I'm so excited for tomorrow!  Maggie and I are going to see Sesame Street Live!  I can't wait to see her reaction when Elmo and Super Grover appear on the stage!  It should make for an exciting morning for us.  I'll keep you posted on how she does at the show.
What are you up to this weekend?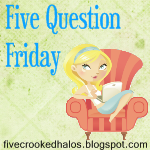 Just a reminder, I'm linking up with others for
Five Question Friday
and I don't make up the questions. Click on the button above to see a linky list of others also participating. Be sure and share your answers below too!
If you had a weekly newspaper column, what would you name it? Oh this makes me laugh.  First of all, they would never let me have my own weekly column…it would just be me rambling.  I guess I would call it –  "Mama Knows Best".
Who is your mentor/inspiration? I think my babies are my inspiration.  I want to be the best mama I can be – they deserve it!
What is your wake up beverage of choice? My day doesn't officially start until I've finished a glass of Mountain Dew.  I can't start my day without one….and if I do have to start my day without it, you better tread lightly around me.  🙂
Would you wear your mom's clothes? If I had to…yes.  If I had other choices….no I would not.  Sorry Mom! Good thing she is on vacation this week and not near her computer. 🙂
When you were a kid, did you put posters on your wall?  If so, what were they of? I'm telling my age by answering this one but my walls were covered in Mickey Mouse posters and New Kids on the Block posters.  My room was actually decorated in Mickey Mouse bedding and the NKOTB posters were a "must" –  Donnie's especially.