This weekend is going to be our last quiet weekend for the next month or so.  I'm hoping we can just have some fun, family time before things start getting hectic around here!
What are you up to this weekend?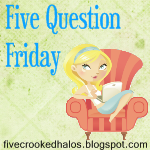 Just a reminder, I'm linking up with others for
Five Question Friday
and I don't make up the questions. Click on the button above to see a linky list of others also participating. Be sure and share your answers below too!
Dream job….realistic and completely unrealistic. I think realistically, I still really love to do public relations for sports.  I got my degree in Communications with the goal of doing sports PR, did some internships in the field and decided it wasn't for me.  I'd love to go back and give it another try now that I'm older (and wiser).    Unrealistic –  A millionaire (is that a job?!)
Do you fart in front of your significant other? Seriously people?!  Who came up with this silly question.  Totally TMI…and quite frankly, who really wants to know the answer to this one?
What's the furthest you've ever traveled from home?  How far and where was it? In 2006, my husband (at the time, still my boyfriend) was on a month-long assignment for work in Germany.  At the end of his time there, I flew to Germany (by myself) and met him for an extended vacation.  We spent almost two weeks exploring Germany, Paris and Amsterdam…all by train.  It was fantastic.   (I feel a Travel Tuesday post in the making.)
How do you celebrate birthdays for your kids?  Family only or with friends?
It's funny – for both of Maggie's birthdays, we celebrated with big parties.  With Molly's first birthday this past summer, we celebrated with just family.  I love my friends and all the fun that comes along with big birthday celebrations, but I'm also selfish and really just love having a small family gathering.  There will be plenty of big parties in the years to come – might as well celebrate small for now.
Favorite thing about fall?
Um…football season, of course!