I'm so excited to see some of my oldest friends this weekend. And by old, I mean they've known me since I was about six or seven years old. It's going to be a great weekend!
What are you up to this weekend?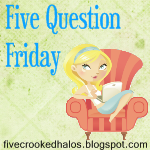 Just a reminder, I'm linking up with others for
Five Question Friday
and I don't make up the questions. Click on the button above to see a linky list of others also participating. Be sure and share your answers below too!
Do you apologize to your kids if you are wrong? Of course I do.  It's the right thing to do.
Do you have a class ring, a letterman's jacket or similarly obscenely priced high school "must have"?
I have my high school class ring.  I was so proud of it – a pretty blue stone with a little dancing shoes emblem on the side!  I still have it, I'm pretty sure there is no way I could still wear it, even if I wanted to!  And how about yearbooks?!  Good lord those things were expensive when I was in school.  Mine are all collecting dust.
If you could be one age for the rest of your life, what age would you choose? I'd be 21….and not just because I could drink alcohol.  Twenty one was such a fun time for me – still in college, not a care in the world and surrounded by the greatest friends.
What is your favorite (unused) baby name? I have two favorite, unused baby names……  Claire.  If you know my last name, it's a terrible pairing.  When I traveled to Ireland years ago, I met a precious, little girl named Claire and that name has always been high on my list!   My other favorite is Turner.  It's a family name and if we had a boy, we were going to use it.
If you could make your child like something, what would it be? I'd make Maggie like going to see shows.  After seeing this question, I realized I never posted an update on our Sesame Street Live adventure.  We lasted 20 minutes and had to leave.  She screamed and cried the entire time.  I couldn't believe it.  So sad 🙁