After taking a break last week from Five Question Friday – I'm back!
This weekend marks the beginning of the NFL season – I'm excited for some fun tailgating!  What are you up to this weekend?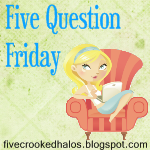 Just a reminder, I'm linking up with others for
Five Question Friday
and I don't make up the questions. Click on the button above to see a linky list of others also participating. Be sure and share your answers below too!
What ringtone do you have on your cell phone? I'm a plain Jane, I just have the normal sounding telephone ring.  Nothing fancy…and everyone gets the same ring – no specialized songs for different people.
What is your favorite memory from this summer?
Probably our big family outing on the boat with friends/family.  We had such a fun day and I loved seeing my girls enjoy being out on the water. 
Here's a video
of some of the fun!
Paper books or eBooks? Well considering I don't own a Kindle, eReader, Nook or anything fun…I'm going to have to say paper books.  I actually just ordered one on Amazon tonight!
If you could have one home upgrade, what would it be and why? A completely new kitchen!  (Does that count as one upgrade or many upgrades?!)  We've been wanting a new kitchen since the day we moved in our house.  My hubby is such a great cook – he deserves a fancy kitchen!
When was your first serious boyfriend? That depends on what your definition of "serious" is.  When I was five, I was going to marry my then-boyfriend at the time and we were going to run away in live in England.  That's pretty serious if you ask me!  🙂