The cooler weather has finally reached Florida!  Hooray!  Last night's low temperature was 48degrees!  That's pretty chilly for us Florida folks.  This weekend the highs are in the mid-70's.  Perfect for playing outside!  What's the weather like where you live?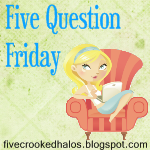 Just a reminder, I'm linking up with others for
Five Question Friday
and I don't make up the questions. Click on the button above to see a linky list of others also participating. Be sure and share your answers below too!
Where do you escape to when you've had enough? I'm afraid my answer isn't very exciting..but it is delicious!  I go to Panera.  Tasty food, Mountain Dew and free Wifi.  What more could a girl ask for?  I love it.   It's a great spot for people watching too!
What shows are you watching this Fall? I'm really excited about Top Chef: Texas!  It starts the first week in November!  I love Chef Tom Colicchio and my husband loves Padma….and we both love watching the chefs battle it out each week preparing awesome dishes.
What was the longest road trip you've ever taken and where did you go? I think our trip this Summer to Virginia was pretty brutal.  Sixteen hours total, split over two days…with two children under the age of three.  Yikes!  That just screams a recipe for disaster.
Do you plan on taking your kids to Disney World? Maggie is 2 1/2 years old and Molly is only 16 months old and they've already been to Disney twice.  We live 2 1/2hours from Disney World…    I love living in Florida!  I'm trying to convince my husband that we need to go back for my birthday at the end of November!  🙂
What is something people would be surprised to know about you? I hate math.  A. Lot.