Lots of fun things going on this weekend around our house.  I'm going to a fun dinner this evening and Saturday I'm hosting a party at my house! (More on that later!)
What are you up to this weekend?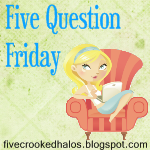 Just a reminder, I'm linking up with others for
Five Question Friday
and I don't make up the questions. Click on the button above to see a linky list of others also participating. Be sure and share your answers below too!
Do you prefer your ice cream in a bowl or in a cone?
Um…is this a trick question?  Ice cream is good no matter how it is served.  However, I prefer a bowl so I can add lots of toppings – sprinkles, chocolate, caramel, cherry…all that delicious stuff!
What three things do you love the smell of?
Call me crazy, but I really love the smell of coffee, but I don't like the taste of it.  I love the smell of my sweet babies (when they have clean bottoms) and baby powder.
Giftcards or no?  (In regards to gift giving.)
I think it probably depends on the person.  Personally, I love getting gift cards.  ps. My birthday is next month.  😉
What sports did you play in high school, if any?  And do you still play them?
I was on the dance team for one year in high school. Does that count as a sport?  And if I didn't have the knees of an 80 year old woman, I'd probably still be dancing!
Were you in band in high school?  What instrument did you play? I wasn't in band in high school, but I did play the flute during middle school for a few years.