Yay for Friday! I'm slowly making my way through the Christmas list and hoping to finish up my shopping soon! What about you? Let's get to this week's Five Question Friday. ….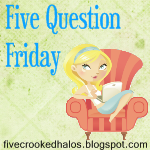 Just a reminder, I'm linking up with others for
Five Question Friday
and I don't make up the questions. Click on the button above to see a linky list of others also participating. Be sure and share your answers below too!
What's the best Christmas present you've ever received?   My first Christmas with Rob while we were dating, he gave me diamond earrings.  I think that's when I knew things between us were real.  I still wear those earrings every day.
Worst/funniest white elephant gift ever received?   I'm not even sure.  I do remember one year when I was still working we had a white elephant gift exchange.  There was one man in our entire office….and he ended up with earrings.  Poor guy.
Is your Christmas tree plain and simple (white lights and matching ornaments) or wild and crazy (colored lights with ornaments collected throughout the years)?   We let Maggie put the ornaments on the tree this year.  It's a little lop-sided…most of the ornaments are at her eye level and they are all on one side.  Only white lights on my tree!  Here's my post showing off my tree. 
"How" do you iron your clothes?  The old fashioned iron/ironing board way, the shower or back in the dryer, etc?  I couldn't tell you the last time I actually used an iron.  I'm not even sure where the iron lives in our house.  I always just throw things back in the dryer to "fluff" for awhile.
How much baking do you do for Christmas and what are your "must make" items?  I usually make a few batches of cookies… and even though it's not really baking, last year I made chocolate covered pretzels.  I think I'm going to make them again this year.