I wasn't going to make any type of resolutions for the New Year, just like everyone else I make resolutions and soon they are broken. However, all that changed when I found this great New Year's resolutions printable on Pinterest from Mique at  ThirtyHandmadeDays.com …. I knew I had to do it.
So, thanks to the cute printable….. here are my "one word" and goals for 2012.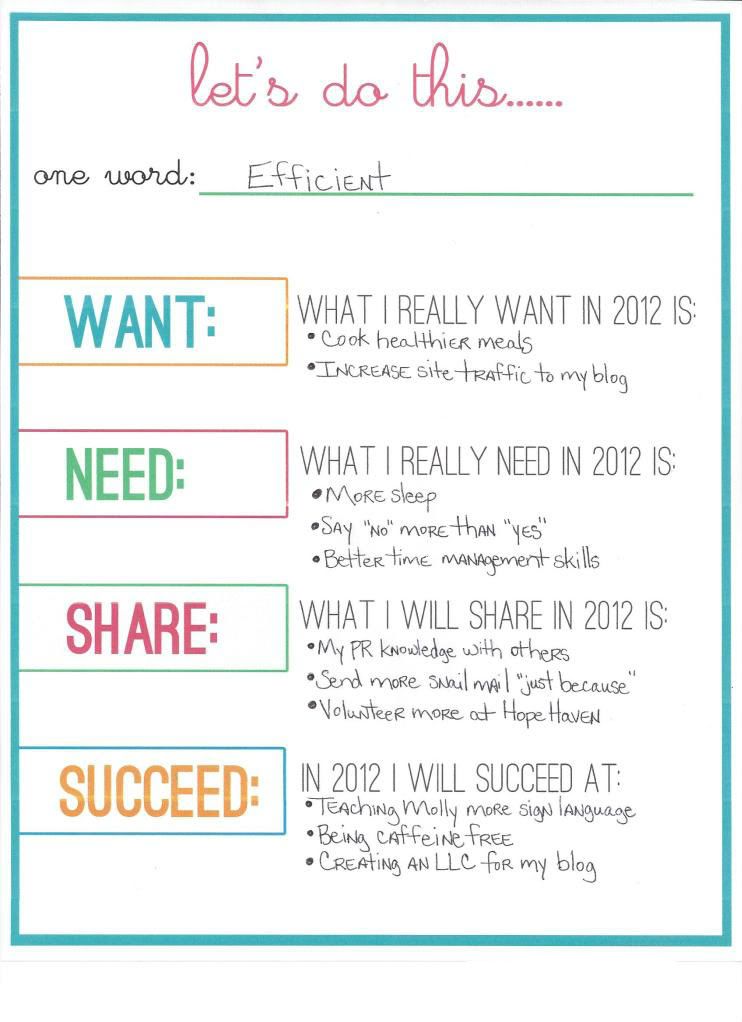 I chose the word "efficient" because I want to be productive in saving time, not putting too much on my plate and take advantage of opportunities that truly interest me.  My favorite goal for this year is "Say No more than yes".  I always find myself juggling too many projects, I'm hoping to choose wiser in 2012.
I love this printable because it includes the words Want, Need, Share, Succeed – each of them such powerful words and really required me to think a lot about myself and this new year.
I've got my goals printed out and framed on my desk, practically staring me in the face.  I'm excited to see what I accomplish this year.  Here's hoping I stay close to my goals!
Stay tuned next week, I'm excited to show you the new meal planning chart I've got in place for our family too!
Don't forget to check out ThirtyHandmadeDays.com to get this printable and make your own goals and resolutions for 2012!
What are your resolutions or goals for 2012?