Yay for Friday! We are taking a weekend trip to Disney World! This trip is extra exciting because we are staying at the new Art of Animation resort in a Little Mermaid room!  Can you hear my squealing with excitement?  (I'll take lots of pictures and share with you next week.)  What are your plans for the weekend?
Let's get to the questions..be sure and share your answers below!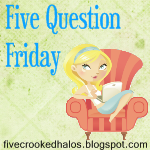 Just a reminder, I'm linking up with others for Five Question Friday and I don't make up the questions. Click on the button above to see a linky list of others also participating.
What is one grammar issue you cannot let go without correcting?  Spelling errors drive me crazy.  This last week I've found some real doozies of errors in my posts and it drives me nuts!
What's your favorite thing about fall?   I'm not even sure fall exists here in Florida.  It's still in the high 80's around here, so we certainly haven't gotten out the cold weather clothes yet. We've still got another month or so before that happens.  Either way, my favorite thing about fall is football season!  I love football!
What's your favorite dish to take to a potluck?  I usually take Paula Deen's corn casserole.  It's easy to make, travels well and it's delicious!  Plus, it's got tons of cheese on top – you can't go wrong with cheese!
When do you start your holiday (Christmas) shopping?  I've actually picked up a few things for my Christmas list over the last month or two. They were deals that were too good to pass up.  Besides that, I usually start about mid-November.
Did you move homes a lot growing up?   I lived in the same house from the time I was born until I left for college.  When I moved for college, that was the first time I had ever lived anywhere else!