Yay for Friday! I'm taking the girls to see some of my old friends tomorrow.  We haven't seen them in a year, so I know they'll be excited to see how much the girls have grown!  Sunday… it's football day!  Go Jaguars!  What are your plans for the weekend?
Let's get to the questions..be sure and share your answers below!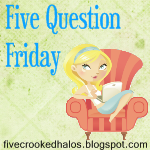 Just a reminder, I'm linking up with others for Five Question Friday and I don't make up the questions. Click on the button above to see a linky list of others also participating.
What album/CD/download are you embarrassed to admit that you own? I have the Yo Gabba Gabba double set CD on my phone.  I'm not even sure if my girls know it's on there.  I listen to it sometimes when I'm in the car alone and need a sing-a-long.  🙂
What's the one thing your spouse does better than you?  My husband is a MUCH better in the kitchen than I am.  He makes some of the best meals and hardly ever follows a recipe.  Me, on the other hand, I have to go step-by-step with the recipe and usually have some type of mini-disasters in the kitchen.
When do you start buying Halloween candy?  Honestly, I usually wait until a day or two before Halloween.  If not, I'll eat all of it!  Either that, or I buy candy that I don't like ahead of time, that way I know I won't be tempted.
Family closests – yay or nay?   I'm not sure I understand this question.  My husband and I share a closet, the girls each have their own closet.  Our hall closets are for jackets, luggage and miscellaneous stuff!
Which home/cleaning chore do you hate the most?  Why?  I'm not a fan of any cleaning chores.  If I had to choose though, I'd go with cleaning the cat's litter box.  Ew. Ew. Ew.  So yucky…. but I really love my cat, Jack. A lot.