Happy Friday everyone! We are taking the girls to Disney World this weekend to see the parks all decorated for Christmas. I am SO excited for them to see everything decorated in lights and I know Maggie is excited to see her "friends" too!  What are your plans for the weekend?
Let's get to the questions..be sure and share your answers below!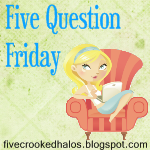 Just a reminder, I'm linking up with others for Five Question Friday and I don't make up the questions. Click on the button above to see a linky list of others also participating.
If you bake during the holidays, what is your favorite thing to make?  The last few years, I usually just make some regular cookies and brownies.  I think this year,  the girls are finally old enough to help make some fun, decorated cookies so I think we'll try that this year. It's not baking, but I also like taking big pretzel sticks and dipping them in chocolate and then rolling them in sprinkles too!
Present giving: Gift bag vs. wrapped box?   I hate wrapping Christmas gifts.  I am terrible at it.  I usually like to go the gift bag route, but that's not always very fun to open, so I usually just end up with ugly looking wrapped boxes!
What do you keep your thermostat set on during the winter/summer months at your house?  Our thermostat is usually set at 70 degrees year round.  Hubby and I usually disagree on the temperature during the winter months, I'm always cold.
When thinking of your "Christmas to-do" list, what percentage "done" are you?   Ugh. I don't even like to think about it.  I feel so disorganized this year about Christmas.  I really need to sit down and figure out what I've got left to do.  I think I'm about 80% done.
Do you do Elf on the Shelf?  If so, has your elf gotten naughty this year?  We have an Elf on the Shelf but I've never even taken him out of the box!  Shame on me…