Happy Friday everyone! We are having a belated Christmas celebration with my husband's side of the family this weekend! It's been unusually warm here in Florida this week, so I'm sure we'll spend some time playing outside too. What are your plans for the weekend?
Let's get to the questions..be sure and share your answers below!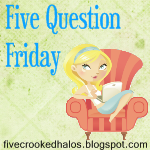 Just a reminder, I'm linking up with others for Five Question Friday and I don't make up the questions. Click on the button above to see a linky list of others also participating.
Do you embrace or dread snow/cold weather days?   I'm a Florida girl – there's no such thing as snow days (although, sometimes I wish there was!).  With that said, the Florida definition of "cold" is something I could do without – I don't like having to bundle up and look like a marshmallow just to go outside.
What game show or reality show could you totally win?  I love the Price is Right – a lot.  I'd like to think that I could totally win Plinko if I could just get on the show.  It's been my favorite game show since I was a little girl.  Getting to play the Showcase Showdown would be so fantastic!
What is your preferred climate?   Mid-70s degree temperatures during the day would be a dream come true.  Not too hot, but not chilly either.   Just right for me!
What do you buy every time you walk into the grocery store, no matter what?  I guess probably either Mountain Dew (which I'm trying to quit) or fresh fruit.  My girls love fresh fruit and I feel like we go through it like crazy around here!  I guess that's not a bad thing though!
If you see a spider/bug in the house, are you brave enough to kill it, or do you call for your hubby?   I am a total wimp when it comes to bugs – I make my husband kill them – every single time.  I am terrified of any bug/rodent/creepy crawler thing that can get in my house.