Happy Friday everyone! We've got a busy weekend – filled with fun!  Tonight, we are taking the girls to see Disney on Ice.  Tomorrow we are celebrating my niece's 5th birthday with a dinosaur party and then we are headed to Disney for a day or two of fun.  What are your plans for the weekend?
Let's get to the questions..be sure and share your answers below!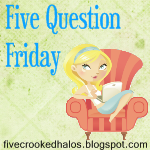 Just a reminder, I'm linking up with others for Five Question Friday and I don't make up the questions. Click on the button above to see a linky list of others also participating.
Would you go to your high school reunion?  I missed my ten year reunion because I had surgery right around that time.  With that said, I was impartial to the thought of a high school reunion.  Isn't that what Facebook is for anyways?
What's something that you recently splurged on for your yourself or someone else?   This sounds totally nerdy, but my recent splurge was on building my new Disney site, Disney with Toddlers.
How do you handle your child's fever?   Lots of snuggles, television/rest on the couch and some medicine.  But, mostly snuggles.
What's the nicest thing to happen to you lately?   Thanks to a friend, my girls are going to have a meet/greet with the Disney princesses before tonight's Disney on Ice show.  I am thrilled and so incredibly thankful to have such a nice friend that understands my girls love for all things princess!
What is your favorite current song?  I'm a country music fan and I'm in love with Blake Shelton's new album – Based on a True Story.  It's been on my Spotify list all week.  I love it.