Before we set sail on our first seven-day cruise, I was worried about whether or not my girls would enjoy the kids programming on the ship. Would they make friends? Would they miss me? Would there be fun things for them to do? I had so many questions.
As soon as we stepped inside Carnival's Camp Ocean, my worries were gone. They wanted to spend every minute of our trip at Camp Ocean — and I can't blame them. It was pretty awesome.
Camp Ocean is the newly renovated, ocean themed children's programming making its way through the Carnival fleet of ships – and I was thrilled that we were able to experience it on Carnival Freedom.
From water-themed arts and crafts to ocean themed movies at night, water and sea life are the main themes and you experience it the moment you are greeted at the check-in desk.
Penguins, Sting Rays and Sharks 
At Camp Ocean, kids are divided up by age with activities tailored to those specific groups.
Children ages 2 to 5 years old are 'Penguins' and have plenty of toys, a beach-themed play kitchen, an indoor slide and secured access to an outdoor playground too.
The Sting Rays area is for kids ages 6 to 8 — complete with board games, building blocks, books and access to Creative Cove, a place to create their own ocean-themed artwork.
The Sharks area is for kids ages 9 to 11, with video game consoles, crafts, books and plenty of room to just relax and make friends.
My girls were penguins at Camp Ocean and each time I picked them up, they couldn't wait to tell me all about the fun activities they did while I was gone. They had fun learning about sea life and playing games with their camp counselors and I loved seeing how proud they were to call themselves penguins.
Things to Know About Camp Ocean
Just A Phone Call Away – When available, parents can check-out ship cell phones (only good for calls within the ship) to keep with you while your child is at camp. If your little one gets tired, needs something or if you want to check on them – they're only a phone call away. We loved being able to check in on the girls any time and loved that the Camp Ocean staff could reach us at a moment's notice.
She's A Typical Kid – When we registered Molly for Camp Ocean, I filled out an additional 'special needs' form letting them know she had Down syndrome. It was my hope that she would be treated like a 'typical' kid and they welcomed her with open arms. Molly was a Penguin – not just a child with Down syndrome. It was the ultimate wish come true for us.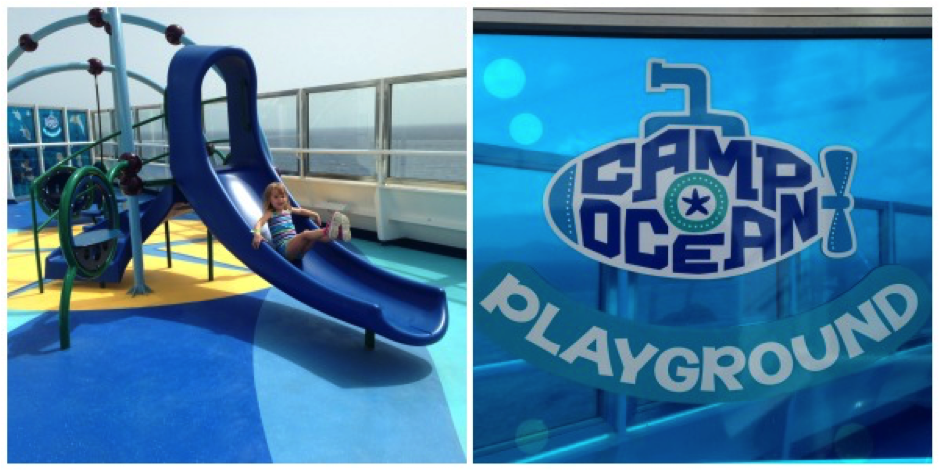 It's Time to Eat – If you dream of an adults-only dinner, you are in luck! Kids can dine with the Camp Ocean staff each evening before making their way back to camp headquarters. With a set menu provided in advance, we let the girls decide each day where they wanted to eat. They loved getting to choose – and I loved having a few, quiet dinners with my husband on our trip. Win/win for everyone!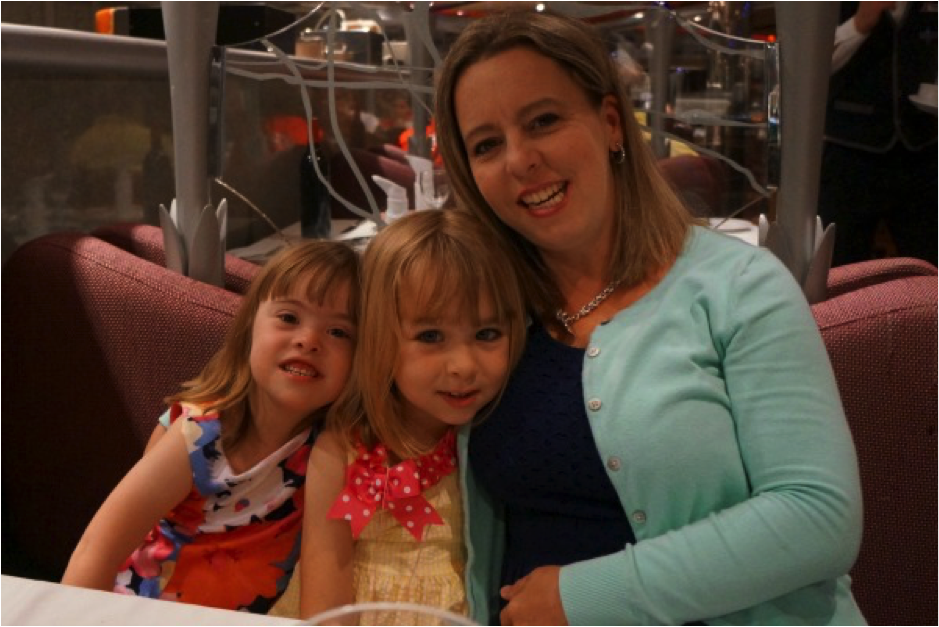 Cruising with kids is always an adventure and what my family loves the most is that we can make memories together as a family, but also have fantastic times exploring on our own too. And it's Camp Ocean that allowed that to happen for us.
My girls felt at-home while they were there. It was a safe environment filled with fun. And my girls are already asking when we can go on another cruise – they want to be penguins again!
This post was created for Away We Go with Carnival, the destination for getting in the getaway state of mind. Head on over.