Thanks to Trop 50 for sponsoring my writing about fabulous bloggers. This year Trop50 is granting 50 fabulous wishes.
Click here
to enter for a chance to win $1,000 to help grant a friend's wish!
To steal a line from Murray on Sesame Street, "Today's word on the street is – "fabulous". What's your definition of "fabulous"? When I was recently asked to name my own favorite, fabulous bloggers, I spent a few days thinking about my own definition of the word. Some words that came to mind were inspiring, motivating, genuine and awesome. In no particular order, here are a few bloggers that I think are fabulous!
About six months ago I discovered Busy Mom and let me tell you that if you aren't reading her…you need to be. In a non-stalker-ish way, I feel like I know her – she's very genuine. What an accomplishment that she's been blogging since 2003! That in itself makes her fabulous! I love her writing style, her humor and her ability to laugh at the little things in life. If you can read her "100 Things About Busy Mom" post without smiling, then there is something wrong with you.
Robyn at
Robyn's Online World
is one of my Twitter tweeps and I can always count on her to give an honest opinion on a variety of topics – family, product reviews, blogging and she's just plain fun! I enjoy reading her site because she's not afraid to speak out on issues such as parenting a child with bipolar disorder. Plus, she always keeps me smiling with the daily mugshot on her blog! You've gotta check it out – so fun! One day, maybe I'll start my own!
As an old PR pro, I'm fascinated with all things branding and anything to do with social media and public relations/marketing. With that said, you can understand why I consider Amy at Resourceful Mommy to be fabulous! She's a part of some really great happenings in the mom blogging world and she invented the Twitter party. How cool is that?! I enjoy reading her blog for insight on products and to keep up with her Disney obsession.
I've been a fan of Karen and Saving The Family Money long before I became a blogger myself. Imagine my surprise when I learned that we only lived 20 minutes away from each other! What a small world! Besides helping me save money each week, Karen has been a great resource and friend to me. When I reached out to her about my idea of joining the blogosphere, she kindly offered me tips/suggestions and she's taught me a great deal about the blogging world.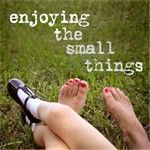 Kelle Hampton at
Enjoying the Small Things
is mom to precious Nella, who was born with Down syndrome. Sweet Nella just turned a year old this past week and I've enjoyed following along on their journey these last few months. Kelle is inspiring in that with the help of her readers, she has raised $93,000 (so far) for
Nella's ONEder Fund
celebrating Nella's first birthday with all the monies going to the
National Down Syndrome Society
. How's that for a fabulous blogger?! I love that Kelle is using the power of social media to make a difference in the lives of others. The photography on her site is breathtaking, I encourage you to check it out….and contribute to her fund!
When you hear the word fabulous – what things come to mind? Is there a certain event in your life that fits your definition? What people do you consider to be fabulous? I look forward to hearing your thoughts…
Don't forget to enter the 50 Fabulous Wishes contest for a chance to win $1,000 to support a friend's wish. I was selected for this Tropicana Trop50 sponsorship by the Clever Girls Collective, which endorses Blog With Integrity, as I do. I received compensation to use and facilitate my post.