Did you do anything fun yesterday for Cinco de Mayo?  I made enchiladas and we tried out a new
Tostitos guacamole dip
.  (More on that later in another post.)  Nothing too wild and crazy here, but it was a good day!
Today is a busy Friday for us!   An old friend from California is passing through town today, so we are going to meet her for lunch!  We haven't seen each other in probably five years, I'm excited for her to meet my girls!   More fun awaits this afternoon…my parents are coming to town! YAY!  We haven't seen them since Christmas!
What are you up to this weekend?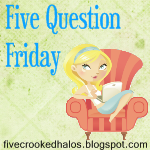 Just a reminder, I'm linking up with others for
Five Question Friday
and I don't make up the questions. Click on the button above to see a linky list of others also participating. Be sure and share your answers below too!
Have you ever had roommates?
I only had roommates in college – I was lucky because they were all amazing, no horror stories from me!  My freshman year in college, I was paired up with a girl I didn't know named Shannon…she was SO fun!  We ended up wearing the same size clothes AND shoes…a girl's dream!  My Sophomore year, I had an apartment with Cortni and Amy – they were great roomies too! My Junior year in college I had three roommates!  We called ourselves the Golden Girls, I was deemed Dorothy because I had a temper.  LOL.  I think I laughed more that year in college than I've ever laughed, we had so much fun together. I love my Golden Girls.  Senior year, Blanche and Sophia (the older Golden Girls) graduated the year before, so Rose and I were roomies the last year.  She did her best to keep me out of trouble.
How many names do your children have?
I'm not sure I understand the question…so I'll just tell you their nicknames.  Maggie's nickname is Tootie.  When she was a newborn, she used to root around and toot a lot in her little bassinet.  We started calling her Rootie Tootie, but it was just easier to say Tootie.  We usually call little Molly our Tiny Toot.  I guess she comes by that nickname by default.
Did you watch the Royal Wedding? Nope. Not even two minutes of it.  I saw a few pictures online, but that was about it.  Yawn.
What is the messiest room in your house?
I guess it depends on what day of the week it is …and what your definition of messy might be.  I'm going with the kitchen.  We have a section of our countertop that ends up being the junk pile.  Everything ends up there… mail, keys, my purse, drink coasters… you name it, it's probably there.  Drives me CRAZY!
What is your ideal Mother's Day?
I'd love to sleep in until noon, have some lunch (prepared by someone other than me), then take a long, afternoon nap.  Then follow the nap up with dinner, also not prepared by me.